Over 60 partners discover...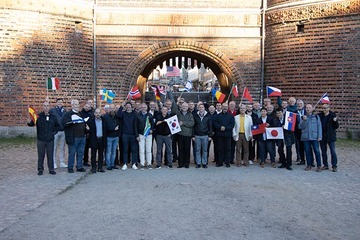 Over 60 partners discover the future of NDT in Stockelsdorf
From October 18 to 20, more than 60 sales partners visited VisiConsult for a conference to discover new topics around the NDT division brand VCxray. Delegates from the new business partner diondo also participated and shared valuable insights into their portfolio that will make new opportunities possible for customers in the field of
non-destructive testing.
VisiConsults' guests participated from almost 30 different countries, and were curious to learn more about how VCxray's solutions help their non-destructive testing customers to reach the next level of quality.
Lennart Schulenburg, Managing Director at VisiConsult, expressed his delight: "Finally we can meet again with a large number of our valuable channel partners and present all of our latest developments. Since the last conference a few years ago, VisiConsult has tripled in size, launched three brands on the market, founded its own service company for materials testing, and, last but not least, developed many great systems."
One of the exciting parts was certainly the presentation of x.OS, the X-ray Operation Suite for professional and comprehensive quality inspection. It covers the complete processes that are important for different roles within part inspection and quality management.
There were also numerous presentations on other X-ray solutions and technologies, application reports and success stories were shared.
Another highlight was getting acquainted with the new business partner diondo and a corresponding presentation on the portfolio that will significantly complement VCxray's existing solutions with high-end CT systems. Nikita Fedorov, Global Sales Channel Manager of VCxray, explains: "With so many news and changes, it is important that our channel partners get together, are updated by us, and exchange information with each other. Even more important for us is the opportunity to listen to our partners. It's like a global scan of customer needs, which allows us to discover and unlock hidden potential even better."